In a recent leader update from National
, a notice was given for a report on 10 Special Places - we include it here for your reading; obviously, geared to the Eastern portion of the nation do not feel polarized! The information represents a need for awareness and education and applies to some of the same issues we are seeing in the west.....
Every place where we fish or hunt, where we take our families to get outdoors, and where we seek solitude and escape from our daily lives is special.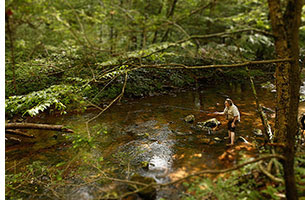 When Trout Unlimited began looking at the risks that rapidly expanding shale gas drilling operations in the East could pose to public lands, we knew we had to bring attention to these special places. Thanks to the help of many local TU volunteers working hand-in-hand with TU staff, we're pleased to present the Ten Special Places report, a TU initiative that tells the story of some of these great public places and why and how they should be protected.
For the 8.8 million hunters and anglers who fish and hunt in the Central Appalachian region, industrial-scale energy development encroaching on public lands is a big deal. In its Ten Special Places report, TU takes a deeper look into these public places, outlining the potential risks posed by gas drilling operations and providing recommendations to promote responsible energy development. Already there have been wins, such as the announcement earlier this autumn that no additional lands of the George Washington National Forest would be leased for oil and gas development.
Thanks to volunteers such as you, TU is able to be an active participant in this and so many other important issues. Join us by learning more today.
Sincerely,
Mark Taylor
Trout Unlimited
Eastern Communications Director